Nirantar has initiated many interventions over almost two decades. Some of these continue till date; others have culminated but their significance remains, both to Nirantar and to others involved in interventions. Much of Nirantar's work has and continues to develop organically, with some interventions developing and morphing into others. Here we share some key past interventions undertaken by Nirantar.
Pitara
A bi-monthly news and features magazine, Pitara was born out of our vision to make informative, entertaining and simply written material available for teachers, students, activists and neo-literate readers. Simple, not simplistic had been the motto. A special readership target for Pitara were those who have newly learnt how to read, or those who have basic literacy skills buttend to forget because of a lack of appropriate reading material.
Published regularly from 1994-2010, Pitara's format was modified over the years based on readers' feedback. The magazine carried news items, articles, fiction, poetry, humorous pieces and photo features.
Read more about Pitara here in 'Reading Beyond the Alphabet'
Contact us for ordering copies of this magazine or other publication material by Nirantar
Mahila Shiksha Kendra
In 1994, Nirantar collaborated with the Mahila Samakhya or Education for Women's Equality (a national-level government programme for women's empowerment) in Uttar Pradesh to develop a residential education programme for rural women — the Mahila Shikshan Kendra (MSK), the first MSK in the country. MSK was then adopted by the Mahila Samakhya programme and has since been expanded throughout the country.
Curricula captures a vision and approach in a manner that can be transacted with learners. Curriculum development has been a critical part of Nirantar's work. We have also worked with different organisations to help them develop educational material.
Read more about Mahila Shiksha Kendra here
Mahila Dakia - A Local Newsletter
Nirantar has both trained and worked with other organisations and programmes to develop a range of educational material in participation with teachers and learners. These publications included newsletters and broadsheets. Mahila Dakiya was one such initiative where Nirantar, in collaboration with Mahila Samakhya (Banda District, Uttar Pradesh) conceptualised and initiated the production of a local newsletter produced by rural women.
At the time when Mahila Dakiya was initiated, in the early nineties, the literacy campaigns were at their peak but the large numbers of men and women entering the literate world had hardly any material to read. What little was available was largely didactic and message-oriented. Moreover, most material was centrally produced with little involvement of local communities and newly literate readers. Nirantar felt that to produce material which was responsive to women's needs, they should be involved in creating the publications. Moreover, we believed that the involvement of newly literate women in such a process would be an excellent way of sustaining their literacy skills. Thus between 1993 and 1997 Nirantar conducted training workshops and follow-up activities to facilitate the transfer of writing, editing and design skills to a mixed group of neo-literate and literate women.
Each issue of Mahila Dakiya included reports and comments on issues that the programme had dealt with. The newsletter also included lighter, humorous items such as jokes, articles on other cultures, local news and information on government schemes, while maintaining its focus on women's issues. The newsletter gave the team members recognition and respect not only from the community, but also from the administration for disseminating information.
Janishala: A Residential Learning Space
Janishala was a residential learning centre for Dalit and Tribal adolescent girlsfrom 2008-11. The program included training the teachers, developing a locally contextualised curriculum and conducting sessions under the Mahila Shikshan Kendra in Banda District of UP (Mahila Samakhya programme of the Ministry of Human Resource Development). We believe that residential educational centres have tremendous possibilities for providing quality education to the girls and women in marginalised groups and communities. A residential facility provides them an opportunity to be free from daily tasks where they are able to engage with education in a focused, intensive manner, and also quickens the pace of learning.
Nirantar's involvement with Janishala was taken forward to Sahjani Shiksha Kendra, Lalitpur, which aimed at empowering and educating the girls of the region belonging to marginalised communities. The curriculum for Janishala was based on transformatory education and feminist pedagogical principles. It combines Nirantar's experiences from the field over the last 10-15 years as they relate to education and empowerment, as well as learnings from our work on mainstream curriculum development and textbook writing.
One of the two courses offered in the programme was a short-term course for girls who have either dropped out of the school or are on the verge of dropping out of school due to the poor quality of education. These girls were offered a bridging course and brought back into mainstream schools by admitting them in appropriate classes under the RTE Act. The other course is a longer one, for girls who have already dropped out and hence are virtually non-literate, or girls who have never been to school. They were provided with a comprehensive learning experience and were also able to appear for their 5th to 8th standard exams. Due to extreme poverty and migration, and the fact that education for older girls and women is not a priority within society/the community, there is usually no platform for these women to further their education.
Writing for SCERT School Text Books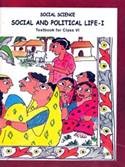 The government school textbooks produced post the NCERT's National Curriculum Framework of 2000 were critiqued for containing numerous factual errors, for distorting facts and for promoting conservative ideologies. In September 2004, NCERT constituted expert groups to review and recommend changes in these textbooks. Nirantar was involved in coordinating a team of teachers and educationists to work together on the Civics textbooks for Classes 6 to 8, published by SCERT, Delhi.
The aim was to write in a language that would be accessible to the learner as opposed to writing for the teacher, and to bring in concepts through narratives and experiences of the learner. The books were contextualised in order to make them relevant to a child from poor or working-class family living in Delhi, possibly a first-generation learner in her family. This is the group that forms the majority of learners in government schools in Delhi.
Nirantar also conducted a collaborative study titled 'Textbook Regimes: A Feminist Critique of Nation and Identity', which analysed both government- and privately-published textbooks across four states, and at the national level. The participating states — Uttar Pradesh, West Bengal, Tamil Nadu, Gujarat, Delhi — were selected keeping in mind the political context, developments in education and the vibrancy and academic rigour of the Women's Studies departments. As education is a state subject, the political context becomes important in order to analyse how the gender question and its intersectionalities have been dealt with by states presently espousing different political ideologies and with different political histories.
The debate around the National Curriculum Framework of 2000 (NCF 2000) mirrored the intense conflict between competing visions of nationhood and national identity that have dominated India's public and political discourse over the last two decades. Not surprisingly, the authors of the new policy justified their large-scale revisionism by invoking a particular conception of Indian nationalism, and how it must be communicated in school education, even if it implied the deletion of certain historical 'facts' and reinterpretation of certain historical 'events'. Ironically, the question of gender, deeply implicated in the debate of nationalism, remained marginal to the NCF 2000 curriculum debate: there was little systematic effort to critique the NCF from a gendered perspective, whether on the question of history, tradition or religious value education. We felt there was a need to look at gender concerns in mainstream education in a manner that intersected with other concerns related to class, caste and religious identity, in addition to issues related to nation and national identity. It was also evident that Women's Studies located in Universities were particularly disengaged with children's education and there was a need to bring it more proactively into the debate.
The year 2005 saw the drafting of the next National Curriculum Framework (NCF). Representatives from academia, the teaching community and NGOs were involved in writing focus group papers on 21 themes. These focus group papers contributed to the formulation of the NCF document. In addition to this, new syllabi based on the NCF 2005 and the first round of changes in textbooks formed part of the initiatives that mainstream education witnessed.
In addition, Nirantar has been part of the Gender Focus Paper in the formulation of the syllabi for political science and in the writing and designing of the textbooks. The Gender Focus paper provides a radical departure from how the education sector has looked at gender in education till now — not merely in terms of breaking stereotypes or in terms of quantitative representation, but into the domain of disciplinary knowledge. A substantive, rather than a merely formal inclusion of gender meant a change in the framework rather than the add-and-stir approach usually used with gender in textbooks.
Education and Microcredit
Our explorations into the study of gender and education for adult rural women led us to understand in greater depth the 'Self-Help Group (SHG) phenomenon' in India. We found that all the claims that are being made about SHGs, microcredit and empowerment were not translating into reality at the grassroots level. We came to realise that SHGs are not another development issue. Rather, it is a phenomenon that has significantly changed the way we see 'empowerment' and 'poverty alleviation' and, in a sense, the way in which we have begun to see 'women'.
Recognising this, in 2001 Nirantar began with creating a space for reflection and discourse in a context where no such space previously existed. Our intervention began with research studies. We took learnings from the studies to fellow feminists, researchers, development practitioners, educationists and the State. We created and also proactively used existing fora in order to generate an alternative discourse on the SHG phenomenon from the grassroots level up to the national and international level.
Our learnings and advocacy efforts also fed into influencing the XI Five Year Plan process and in lobbying related to redrafting the Micro Finance Bill 2007.
Moreover, our work also included perspective building and training of community-based NGOs, building a collective voice within civil society organisations, impacting national policies and using international advocacy mechanisms like CEDAW.
The advocacy efforts began to have an impact. It is no longer that easy to claim that SHGs automatically result in women's empowerment. There is greater recognition that the agenda of SHGs must be broader than merely collecting savings and ensuring repayment of credit, and that it should include issues of gender and social justice. SHGs have yet to become more empowering, but the situation is better in that there has been this shift in the discourse. Nirantar's studies and the consistent efforts at applying a critical feminist lens to the SHG phenomena have contributed to the changing scenario. There are also now significant efforts by certain civil society organisations to provide literacy opportunities to SHG members. Our interventions included:
Developing educational material on SHGs, empowerment and poverty reduction. This material is in the form of a thematic literacy package, including a literacy primer and continuing education material that can be used for capacity-building with women in SHGs and community-level mobilisers
Sang Padenge, Saath Badenge (includes Primer and Workbook)
Research studies, publication and dissemination of the learnings of the two study reports:
Examining Empowerment, Poverty Alleviation and Education within Self Help Groups (SHGs): A Qualitative Study
Examining Literacy and Power within Self Help Groups (SHGs): A Quantitative Study
Perspective building, advocacy and lobbying in order to influence discourse and policy within civil society organisations, donor agencies and the state vis-à-vis SHGs and women's empowerment.
To place an order for the above publications, contact us
Ethnographic Research
Between 2004 and 2005 Nirantar coordinated and implemented a South Asia-level training and research project in collaboration with Uppingham Seminars, UK and the Asia Pacific Bureau of Adult Education (ASPBAE). The project trained practitioners on using ethnographic approaches to research community-level literacy and numeracy practices and then explored ways in which the research findings could feed into developing locally contextualised literacy and numeracy material. Read Exploring the Everyday for an account of the project.
As part of this project, a team comprising Nirantar members and facilitators from SahjaniShiksha Kendra carried out two small research projects – Mapping the Literacy Environment in Two Villages in Uttar Pradesh and Understanding Numeracy Practices Around Weights. The studies gave us the insight to see more precisely the ways in which literacy and numeracy were used in the community, especially with women, and we are presently using this to develop educational material for our field programme in Lalitpur.